INVESTOR INFORMATION
for
The Man Who Beat Mark Spitz
What is the investment...?
An international award-winning screenplay to be turned into an award-winning film that has already been described as a combination of Forrest Gump & American Graffiti.
What are similar film costs...?

The low budget model we hope to replicate is
Napoleon Dynamite (2004),
costing less than $400,000 yet grossed approximately $46 million. A high end rough estimate to the film's total cost (after all, costs have gone up from 13 years ago) could possibly reach $2.5 million.
How much can the film make...?
A comparable "sports film" made just down the road in Odessa, Texas is Friday Night Lights (2004), which cost $30 million and made $62 million at the box office - however - important to note is that 99% percent of those ticket sales were domestic, with only 1% or $694,849 coming from foreign sales.
Unlike high school football in the USA, swimming & the connotation of the Olympics is a world-wide recognized sport & entity, which is a reason some efforts were made to test the story internationally in film festivals of other countries:
Thanks to an anonymous investor we have been able to hire retired IBM computer wiz & business analysis
to create a mathematical model based on only 20% of every competitive swimmer in the world seeing the movie, and the preliminary estimates so far of only factoring in the countries of Russia, Mexico, China & India looking very promising:
$68 million in foreign sales.
That's a very low 20% estimate in the above four countries alone, and perhaps for a more accurate percentage one could ask:
"What percentage of high school football players & coaches in your town saw
Friday Night Lights?"
Marcos' formula also computes those with other relationships to swimming as well as those interested in Olympic stories.

Marcos Ferrer, CBAP has over 20 years experience in the practice of business analysis and the application of Information Technology for process improvement.

Following graduation in 1983 from the University of Chicago, Mr. Ferrer joined IBM in Chicago, where he worked on requirements and systems implementations in diverse industries. His recent projects include working requirements for the Veteran's Administration, introducing BA practices at the Washington Suburban Sanitary Commission, and creating bowling industry models for NRG Bowl LLC. In November 2006, Marcos Ferrer is one of the first CBAPs certified by the IIBA. He has served as an elected member of the DC-Metro chapter of the IIBA, most recently as President, and assisted in the writing of the BOK 2.0 test.

How do I invest in the film...?

You may invest any amount in multiples of $100 by signing up below. You will receive an investment certificate as seen below: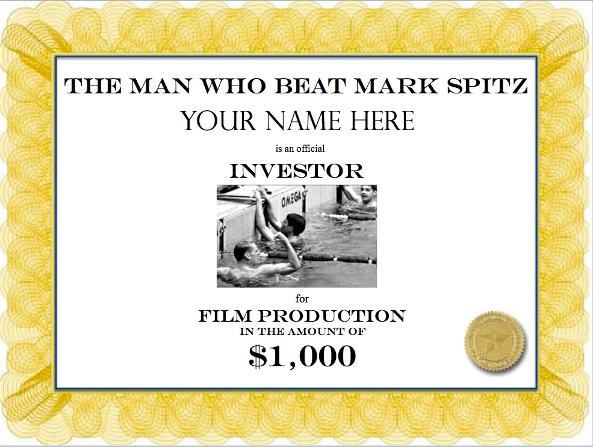 Along with the return on your investment, you will also be listed on the film's credits in this fashion:

Under $1,000 = Participant
$1,000 - $10,000 = Investor
$10,000 - $50,000 = Line Producer
$50,000 - $250,00 = Producer
$250,000 & above = Executive Producer
As you can see, we are collecting the best people in the business to make this an Academy Award quality film and one that is highly profitable for all who take part.
Feel free to contact us for further information or to answer any of your questions...
Please contact us if you wish to use PayPal or check/money order for your investment.
Thank-you...!
Feel to contact us should you wish any additional information or to answer your questions.